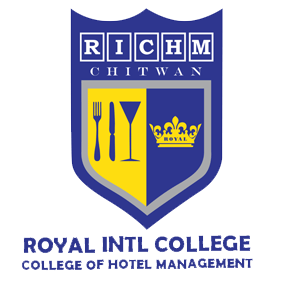 Our Vision
To be known globally as an institution of excellence for our idiosyncratic skill and knowledge.
Our Mission
● To impart required knowledge and skills in our students so they shine in their selected profession and have a successful career.
● To facilitate synergized research amongst faculty, students and industry in hospitality precincts.
● To develop bonhomie between institution and industry.
The Royal International College of Hotel Management (RICHM) has been a center for excellence & a lively testament to the commitment for the hospitality education. It is the first collegiate program in Chitwan offering discerning students the opportunity to be trained in globally recognized skills and earn an International Degree in Hospitality Management through its collaboration with LCCI Global Qualifications (LCCI GQ), Scottish Credit and Qualifications Framework (SCQF) and Scottish Qualifications Authority (SQA), Scotland. It is located in heart of Narayangarh, nearer to Balkumari College, Chitwan.
Since its establishment, the college has been training the future hospitality professionals and catering to the rising demands in various fields like – hotels, aviation, hospitals, travel and tourism, restaurant and bars, fast food joints etc. At RICHM, courses encompass of both practical and theoretical knowledge of every phase of Hotel, Catering and Institutional Management starting from Advance Diploma to Certificate Level trainings and various skill enhancement programs. It also offers various tailor made programs created as per the requirement of various agencies and students which is also termed as short-term courses.
This institute is training centre of LCCI GQ, which is apex body to control and conduct examination. Qualified, experienced and trained Lecturers form the backbone of RICHM. Structured learning process encompassing both the theoretical and practical areas of the industry combined with self development. This perfect combination assures students the highest quality of education. It is proved by the excellent placement record of our graduates in the industry – in NEPAL and abroad.
Hospitality is a key segment of the total travel and tourism industry. Several factors such as the development of travel and transportation system, increasing industrialization, the tempo at which business is transacted, the need to maintain a personal touch, rising levels of discretionary income has led to the growth of the hospitality industry. Today tourism is recognized as the largest economic activity in the world and is expected to grow further giving rise to high demand of trained professionals.
Each day is a learning experience here. If you have the urge to become a great hotelier someday, welcome aboard the hospitality liner of RICHM where learning takes you on a new journey everyday!